CCLD Free Book Box Project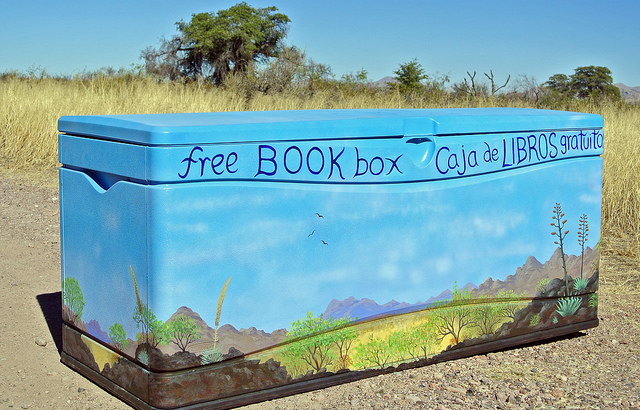 Dragoon Free Book Box, with art by Celia Reed
Nine Free Book Box locations are open now:

Douglas/Silver Creek
4478 Arizona 80 East (mile marker 381)
Dragoon - Dragoon Women's Club
1871 N Johnson Road, Dragoon
In partnership with the Dragoon Women's Club

Double Adobe
Double Adobe Elementary School
7081 N Central Hwy, McNeal

Hereford - Valley View Community Center
6849 Arizona 92
In partnership with the Palominas Elementary School District

McNeal - near McNeal Post office
9101 Highway 191 (approximate), next to the Post Office
In partnership with the Friends Southwest Center
Naco - 3856 S. Towner Ave., near the port of entry
Pirtleville - Faras Elementary School
410 W. Fir Ave.
In partnership with the Douglas Unified School District
This box is temporarily out of service as of 1/2023.
San Simon - inside the San Simon Post Office
2908 N. Arizona Ave., San Simon
This location features a Free Book Shelf rather than a box
St. David - near St. David post office
21 S. Miller Lane at Highway 80
In partnership with the Friends of the Benson Public Library
Whetstone - Mustang Corner Chevron Station
2222 N Highway 90 (corner of 90 and 82)
In partnership with the Huachuca City Library and the Friends of the Huachuca City Library

You can see pictures of all of all of the original the Free Book Boxes, and of several of the artists at work, on Flickr.

---

The goal of the grant-funded Free Book Box Project (2017) was to establish a collection of ten small Free Book Boxes in rural areas across Cochise County, to enhance community access to books and reading materials. Each Book Box contained materials for adults and children, in English and Spanish.
Locations for the Free Book Boxes were selected with input from community members, area libraries, and community partners. We hoped to serve locations that are community gathering places, but not near existing library services.
Each of the original Free Book Boxes was decorated by a local artist. In some cases, students or partner organizations helped with the decoration and design.
This project differed from other "free little library" projects in terms of scope. We housed and distribute several hundred books from each box, and the boxes are restocked regularly.
The Library District is happy to accept donations directly to the Free Book Boxes, and have people return books after reading them, but it is not required.
After the initial grant period (2017/18), the Library District cintinued to work with volunteers and community partners to stock the Book Boxes. With support from the Friends of the Cochise County Library District, the boxes in Double Adobe and Naco have have been replaced with plain blue boxes after the original boxes wore out or were damaged by the elements, but the project is still going strong as of March, 2023.
---
The first Free Book Box location opened on October 23, 2017, at the Valley View Community Center in Hereford. The box was decorated by first graders from Coronado Elementary School, with the theme "Get your hands on a good book!"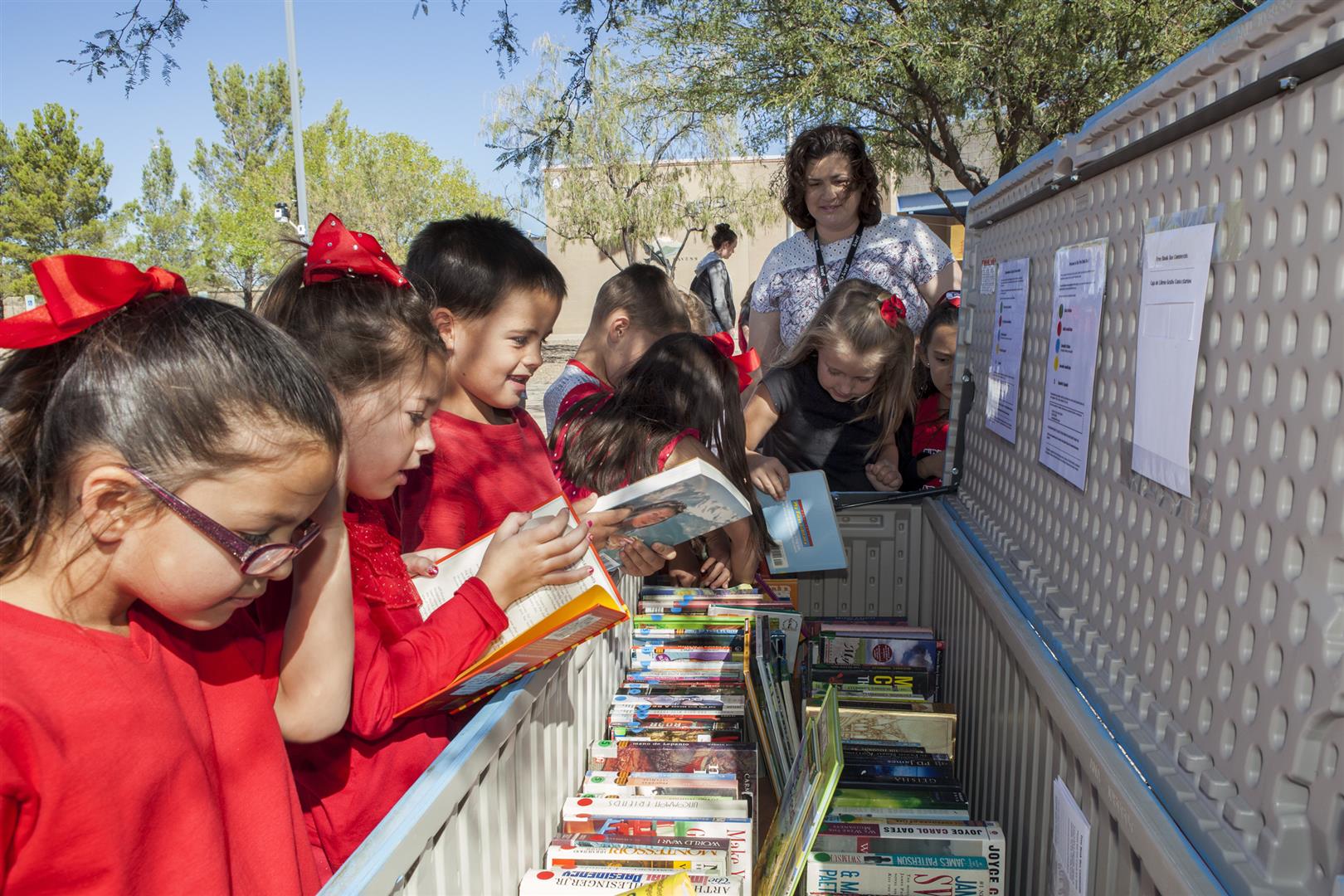 Students unveil the Free Book Box at Valley View

Look for more pictures from this project on Flickr. If you would like to support the project, or you have questions, please contact Amadee Ricketts (aricketts@cochise.az.gov).


---
The Free Book Box Project is supported by the Arizona State Library, Archives & Public Records, a division of the Secretary of State, with federal funds from the Institute of Museum and Library Services.
Cochise County Library District
1415 W. Melody Lane
Building C
Bisbee, AZ 85603
520-432-8930
800-231-1574
view map
---
| | |
| --- | --- |
| Monday | 8 am - 5 pm |
| Tuesday | 8 am - 5 pm |
| Wednesday | 8 am - 5 pm |
| Thursday | 8 am - 5 pm |
| Friday | 8 am - 5 pm |
| Saturday | Closed |
| Sunday | Closed |